You'll be asked to specify a path to store the downloaded file. It doesn't matter where you put it, as long as you remember where you put it later (!!).
The download will then proceed. This may take a few minutes at slower connection speeds, so now may be a good time to grab a soda/coffee/beer/tequila slammer (delete as applicable).
Let's download the site!
There are three downloads - the site source code, images used in articles (e.g. screenshots) and banner images.
• These zip files and all files contained in them are VIRUS-FREE, but you might receive false alarms. More...
• Downloading the file means that you agree with the usual legal stuff, especially that you won't re-publish this code.
Buy me a coffee or a Burger!

Use PayPal to show your appreciation!

Any amount is really appreciated - $5 gets me a great cup of coffee!

Amazon.com Honor System

Or, you can use Amazon.com's refundable Honor System
Download the code Download the screenshots Download the banners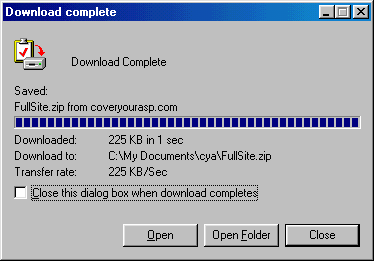 What you do next depends on whether you have a program installed that understands zip files. I use and recommend a program called WinZip. If you haven't got that, go and get it. They have a free evaluation version available, so you have nothing to lose.
Got it? Then let's continue - choose "Open" on the dialog to look inside the zip file you just downloaded.